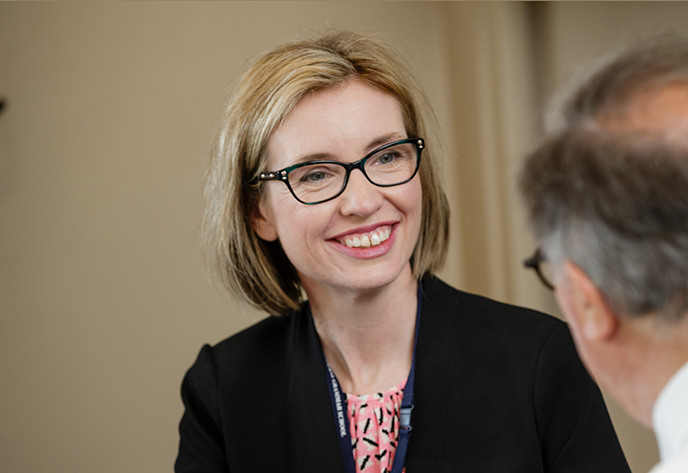 Alumni and Community Relations Manager
People, places, and objects hold a strong emotional connection and school years are often the most transformative years of your life. I work with Melbourne Grammar School's alumni community, The Old Melbournians, and have a strategic role in the work of community groups such as our parent group, Friends of Grammar, and the School's archives.
I enjoy my work because people want to stay in touch with their Melbourne Grammar School memories as they've had such incredible experiences here as students. Many of them have done amazing things with their lives and have extraordinary stories to tell. Most importantly, they want to come back and contribute to the School today.
We have student reunions at 5 years, 10 years, then every decade up to 70 years. At every reunion there's a moment when everyone is back in the Quad, standing outside the Chapel. Suddenly you see the spark in their eyes when they recognise someone they haven't seen in years. There's so much friendship and excitement.
One particularly moving reunion took place during Pride Week in 2017. When the reunion dinner was held that week there was a great deal of reconciliation among the group, many apologies, and a healing of old wounds.
Another aspect of my role is ensuring girls remain included in our alumni community. I've had the joy of working with staff at Grimwade House to support girls to feel connected to the school from Year 7 and beyond through special communications and events. We also have a former Grimwade girl on The Old Melburnians council, and we now have more Grimwade girls attend reunions than in the past.
Working at Melbourne Grammar, I've found that my perceptions of this side of the gate are very different to those I had outside. I thought the school would be very traditional and set in its ways, but it's actually remarkably diverse in socioeconomic and cultural terms, and willing to take on complex and contemporary topics as part of School life and within the School community.
---
Penny Richards Fowler is Melbourne Grammar School's Alumni and Community Relations Manager. She has worked in education for most of her career, most recently in student and alumni engagement at Melbourne Business School.