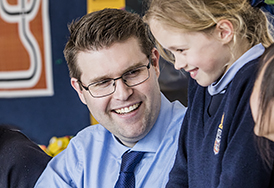 Head of Learning Technology
Last updated: December 2019
Whenever there's a digital device or tool that can be used to enhance student learning, we can define that as eLearning. Today, eLearning in Melbourne Grammar School's primary school, Grimwade House, includes familiar activities such as the use of iPads to create movies in the classroom alongside more specialised activities such as coding, robotics, 3D printing and digital design solutions.
Our approach to eLearning at Grimwade is to begin introducing these activities from day one of Prep. We start with simple robots and use coding programs to learn how to do things like making a digital character tell an animated story. In Upper Primary, students might progress into using coding to create visual programs that can raise awareness in their community about certain issues.
My role is to enable students to think creatively, helping them to understand real world problem areas and then to develop solutions using digital tools. The goal here is for students to start to see that these are not just entertainment devices but tools that can help us to find solutions. Seeing students make that connection is a really exciting moment. I know they'll take that kind of thinking into the multiple careers they have over their lifetimes.
A key influence on my becoming a digital specialist was seeing the difference technology made when one of my students was quite unwell and missing out on a great deal of school. Our class became an online class, sharing student created Claymations, podcasts, interactive discussions and collaborative projects. It enabled her to communicate with us while also enhancing the learning of everyone back at school as they learned how to communicate effectively online. That's when I realised how powerful technology can be and why I am passionate about sharing ways we can use it in education.
What's great about Melbourne Grammar is that we have the resources to provide a vast and differentiated curriculum in IT that can spark curiosity and inspire students to pursue projects that interest them.  We regularly revisit the digital technologies  curriculum to ensure it remains current while using the latest technological resources to prepare our students with essential skills for life.
---
Matt Smith is Head of Learning Technology at Grimwade House. This role involves overseeing eLearning in all areas of the campus as well as working with students in the classroom as a digital technologies specialist teacher.