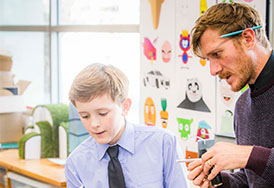 Visual Arts Coordinator at Wadhurst
Last updated: December 2019
I have worked as a professional artist for most of my life and I still exhibit when I get the chance. I have also been a rowing coach working with secondary school students, and it was that which led me to want to go into teaching full time.
Since commencing in Wadhurst at Melbourne Grammar School earlier this year, I found here that there's an energy in young boys that can be directed in a positive way. I'm enjoying working with students in Years 7 and 8 as it's a formative stage when the teaching staff have an impact on their self-image, self-esteem and ideas about where their skills lie.
Art isn't just about drawing realistically. Sometimes students can start to believe that if they can't draw a realistic image, they're not good at art and therefore not creative. But creativity is actually separate to image-making. Creativity can be applied to anything – that's what I try to emphasise. In our art classrooms, we're developing the processes students need to be creative, and these are processes can be transferred into other areas of learning.
Being familiar with practicing artists and current mediums, including digital technology, allows me to bring students into contact with contemporary arts practice. Art history is also important, but there's a chance that younger students will disengage if that's all we focus on.
My aim is for students to develop an enjoyment of visual art and to become less inhibited when coming up with ideas, making initial drawings and starting new projects. It's important for students to know that drawing is a communication and development tool, not necessarily a finished product. I want them to have the confidence to try something that may fail, to experiment and to learn from that process.
---
Chris comes to Melbourne Grammar School with a background in fine art and design. He has spent time exhibiting work in Australia and Europe, along with running his own print studio and working as a rowing coach.