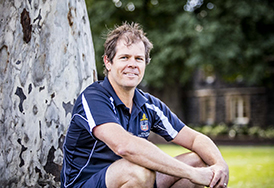 Director of Outdoor Education
Last updated: December 2019
The thing that stands out for me at Melbourne Grammar School is the culture of the School. The expectations are high for both students and staff, but there's also a genuine warmth that's prevalent here. There's real camaraderie between students and staff, and great working relationships.
Our students start their Outdoor Education journey in Prep and it culminates in the 20-day Year 10 Beyond the Gates programme. During this journey, each experience builds upon the one prior creating a sequential and progressive suite of programmes.
My role is broad, from designing and implementing programmes, communicating with parents, to looking at where we can innovate and involve student voices in our programmes. We run 10,000 student days outside the classroom each year, making ours one of the biggest Outdoor Education programmes in the country. I also teach Year 9 Personal Development and Leadership classes and have the opportunity to go on programmes with the students as well.
The students here and their families are truly interested in the world and have a genuine desire to learn. In fact, of any place I've worked, this is where I've been treated the most professionally by parents. Across the school, there's a genuine desire to work with young people to actualise their potential. Our goal is always to find the best result for the student in any conversation.
---
Simon Finnigan is Melbourne Grammar's Director of Outdoor Education. Educated in New Zealand, he held teaching roles at public, Catholic and independent schools in New Zealand, South Korea and Australia before joining Melbourne Grammar School in 2014. He has completed a Bachelor of Physical Education, a Post-graduate diploma in Tourism and a Postgraduate Diploma in Teaching and Learning.