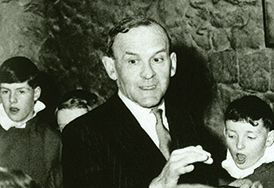 Sir William Neil McKie MVO OM 1918
Church Musician
In the prestigious position of Master of the Choristers at Westminster Abbey, Sir William McKie was responsible for the music at Royal Weddings and the Queen's Coronation. After attending the Royal College of Music and Worcester College, the University of Oxford, McKie became Deputy Organist at Ely Cathedral. He was then a Master at Radley College and Director of Music at Clifton College.
Returning to Australia in the 1930s, McKie was City Organist in Melbourne and Director of Music at Geelong Grammar School. In 1938 he took up a position as Organist and Instructor of Music at Magdalen College, Oxford. He served in the Royal Air Force Volunteer Reserve during the war years.
After the war McKie was appointed Organist and Master of the Choristers at Westminster Abbey, where he had to completely rebuild the Choir School. In 1947 he composed and conducted the music for the Royal Wedding of Princess Elizabeth and the Duke of Edinburgh, for which he was appointed a Member of the Royal Victorian Order.
McKie was responsible for the music at two further Royal Weddings. He was also in charge of the music at the Queen's Coronation in 1953, which involved the selection of works and managing the collaboration between several choirs. He subsequently received a knighthood in recognition of his services.
---
Melbourne Grammar School marked its sesquicentenary in 2008. As part of the celebrations, a Talents Committed Exhibition was staged. This exhibition recognised 150 Old Melburnians who have made a difference to the City of Melbourne, the State of Victoria and the wider community in Australia and overseas.
The above profile was included in the Talents Committed Exhibition in 2008.