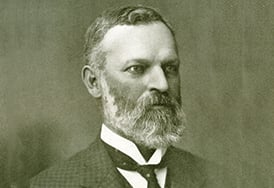 Sir Harry Brookes Allen OM 1870
Pathologist
Sir Harry Allen was a pioneer in medical research, education and public health in Victoria. Allen studied medicine at The University of Melbourne before practising and teaching as a Pathologist. He was also Editor of the Medical Journal of Australia.
In 1882 Allen was appointed Melbourne's inaugural Chair of Descriptive and Surgical Anatomy and Pathology. He held this position for the next 24 years and was Dean of Medicine at Melbourne for over 30 years.
Allen created Melbourne's pathology museum from his own specimens and introduced the new science of bacteriology to the curriculum. He was Chairman of the Royal Commission on the Sanitary State of Melbourne, which led to the Public Health Act 1889, the introduction of Melbourne's sewage system and controls for infectious diseases.
Allen was actively involved in setting up Townsville's Australian Institute of Tropical Medicine and was instrumental in establishing Melbourne's Walter and Eliza Hall Institute for Medical Research. He also served as Chairman of the Australian Red Cross.
His international influence was demonstrated by his success in securing recognition of Victorian medical qualifications by the General Medical Council of Great Britain in 1890.
In 1913 he served on the Executive of the 16th International Medical Congress in London. Allen was honoured with a knighthood in 1914.
---
Melbourne Grammar School marked its sesquicentenary in 2008. As part of the celebrations, a Talents Committed Exhibition was staged. This exhibition recognised 150 Old Melburnians who have made a difference to the City of Melbourne, the State of Victoria and the wider community in Australia and overseas.
The above profile was included in the Talents Committed Exhibition in 2008.