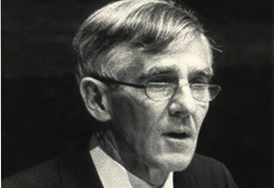 The Hon Anthony Austin Street OM 1944
Federal Politician
A federal politician for almost 20 years, the Hon Tony Street held several prominent Ministerial positions including Minister for Foreign Affairs. After leaving school Street served in the Royal Australian Navy as an Able Seaman on HMAS Norman, HMAS Queenborough and HMAS Shropshire.
He entered federal politics as Liberal member for Corangamite in 1966, a seat he held until he resigned in 1984. Street was responsible for a number of Ministerial portfolios in the Fraser Government, including as Minister for Labour and Immigration, Minister for Employment and Industrial Relations, Minister for Industrial Relations and Minister for Foreign Affairs.
His prominent public addresses included the 1979 Alfred Deakin Memorial Lecture "Class Conflict or Common Goals" and the 1982 Roy Milne Memorial Lecture "Alliances and Foreign Policy Today".
Street has held directorships in several companies and served as a Melbourne Cricket Club committee member. He now runs his family property at Lismore.
---
Melbourne Grammar School marked its sesquicentenary in 2008. As part of the celebrations, a Talents Committed Exhibition was staged. This exhibition recognised 150 Old Melburnians who have made a difference to the City of Melbourne, the State of Victoria and the wider community in Australia and overseas.
The above profile was included in the Talents Committed Exhibition in 2008.