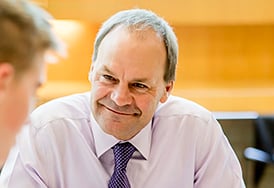 Head of Extension & Enrichment
As an English teacher I am fond of metaphors. And when it comes to teaching, I am drawn to Socrates' idea of the teacher as midwife. That is, the purpose of education is to give birth to student's learning, and the role of the teacher is to facilitate and encourage this – and then they step back and let the student get on with growing.
In the popular imagination, the best teachers are the ones that inspire. But teachers should never become the focus themselves, nor make themselves indispensable. It is too easy for teachers to succumb to the vanity that we know more than our students – but that is a hollow notion.
The greatest satisfaction I find in teaching is seeing a student realise they don't need me anymore. As a midwife, my job is done. Some labours are more difficult than others, of course – but that only makes a successful 'birth' all the more rewarding!
---
Dr Martin Ball teaches English and Literature at Melbourne Grammar School. He is also Head of Extension & Enrichment, responsible for creating opportunities for students to look beyond the curriculum to develop their thinking and learning.
Dr Ball's doctoral thesis explored the role of the Anzac myth in the stories of Australian nationhood, and he has written extensively on Australia's official historian of the Great War, C.E.W. Bean. He taught at the Universities of Melbourne and Tasmania before joining the staff of Melbourne Grammar in 2006.