It is with deep sadness that the Melbourne Grammar School community acknowledges the passing of one of our most beloved friends, Nigel Arthur Holloway Creese AM. He is remembered for many fine qualities including his integrity, diplomacy and continual search for excellence, and for the legacy he leaves on the fabric of the School.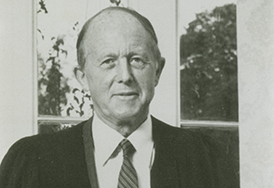 Nigel Creese was the eleventh Headmaster of Melbourne Grammar School, serving from 1970 until his retirement in 1987.
At the time of his appointment, the unrest in our society relating to Vietnam and tertiary education was echoing through the School. It was not an easy time to begin managing a complex educational institution and some would not have met the challenges which were presented. There is no question that Nigel Creese did so, with uncommon intelligence, vision and patience, as well as a tremendous determination to succeed.
It was under Nigel Creese's leadership that girls entered Grimwade House, the Robert Knox Camp at Woodend was established, and curriculum innovations in numerous disciplines occurred. He reorganised Grimwade House and Wadhurst, creating the framework for the current structure, and proactively sought to employ more female teachers at the School. And, of course, he introduced and directed the Quad Play for many productions.
Nigel Creese had an outstanding understanding of educational theory and this contributed to the exemplary reputation he established across Australia for his fine contributions to both the private and public sectors of education.
He continued to teach Latin throughout his Headmastership, to the benefit of those fortunate to have studied under him. As one student stated upon Mr Creese's retirement: "I have found him to be lacking in the distant quality which I believed Headmasters traditionally had. He has acute perception of boys' abilities and circumstances, as well an admirable sense of justice, which he exercises even when one's unseen set of grammar sentences is several days overdue."
Much to our pleasure, Nigel Creese remained in touch with the School until his final days. He attended Quad Plays and other School events, tutored students in Latin and, indeed, he welcomed a small group of Creese students into his home in the week prior to his passing.
Vale Nigel Creese
Ora et Labora