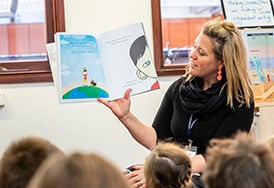 Last updated: January 2020
Children in Upper Primary are challenging themselves and questioning everything around them, so it's exciting to be a part of that. I am lucky that I continue to teach alongside my leadership role, so I get the best of both worlds. I definitely value that connection with students – the conversations I have with them remind me why we're here and what drew me to teaching in the first place. If you can help guide a child's understanding at any point during their day, that's pretty special.
My responsibilities also include providing pastoral care for students in collaboration with the other staff across the School. I spend time with students who might need extra support and I also work on creating positive transitions throughout Upper Primary – from Year 2 into Year 3, Year 6 into secondary school and at each new stage in between.
As a School, one of the building blocks to our success is the relationships between teachers, other colleagues, children and their parents. I see my role as working in partnership with teachers to achieve the best outcomes for their students, so we're constantly challenging each other and asking questions, with success in the classroom as the endpoint. Ultimately, we're all trying to achieve an outstanding education for those children.
---
Edwina Lanham is Head of Upper Primary at Grimwade House. She has taught at a mix of government and independent schools both here and overseas, and is now completing a Masters in Educational Management. She has worked at Melbourne Grammar School since 2011.