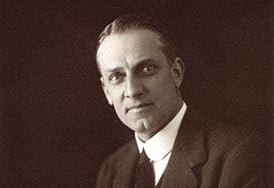 Mr Edwin Harold Flack OM 1890
Olympian and Businessman
Edwin Flack was a successful businessman and Olympic champion. After establishing himself as middle distance champion of Australasia, Flack competed at the 1896 Athens Olympics in the 800 metres, 1500 metres, marathon and tennis events. The only Australian competing in Athens, he appeared in the colours of Melbourne Grammar School and The Old Melburnians. Flack won both the 1500 metres and 800 metres events to become Australia's first Olympic champion, heightening the Australian public's interest in the modern Olympics.
A social tennis player, he was less successful in the Singles and Doubles matches in which he competed. He entered the marathon event at Athens having not previously competed in a race over 16 kilometres in distance. He was leading the marathon but then collapsed after 37 kilometres. The Athenians dubbed him "The Lion of Athens" for his courageous performance.
Flack established the accountancy firm Flack and Flack and was a Director of several Australian companies, including Australian Iron and Steel, Howard Smith and Robert Harper and Company. He also served on the Alfred Hospital's Committee of Management and bequeathed scholarship funds to Melbourne Grammar School to support all-round students from a rural background. The MGS sporting complex Edwin Flack Park in Port Melbourne is named in his honour.
---
Melbourne Grammar School marked its sesquicentenary in 2008. As part of the celebrations, a Talents Committed Exhibition was staged. This exhibition recognised 150 Old Melburnians who have made a difference to the City of Melbourne, the State of Victoria and the wider community in Australia and overseas.
The above profile was included in the Talents Committed Exhibition in 2008.