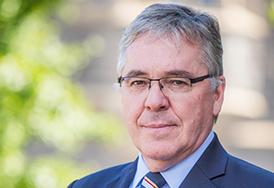 During its long history, Melbourne Grammar School has developed an enviable reputation for high academic achievement, a nurturing pastoral care system, a long established Anglican tradition and a wide diversity of co-curricular activities, including community service. This demonstrates our endeavour to provide the best all-round education for our students by fully supporting them in their intellectual, emotional, psychological, physical, social and spiritual development.
Our aspiration is for Melbourne Grammar students to be architects of their lives; looking beyond the ordinary to achieve the extraordinary, in making a difference to the world in which they live.
In encouraging our students to achieve their potential, we place a major emphasis on the creation of a dynamic teaching and learning environment, both within and outside the classroom. I believe it is the quality of the human relationships within a school that defines it, namely, the interrelations between students, parents, staff and the entire community. Importantly, by doing so, we are able to guide our students to be productive, responsible and caring future global citizens.
At Melbourne Grammar School, learning takes place within our cohesive values system enabling students to become independent, creative and flexible learners, with a strong sense of responsibility to their community and society as a whole.
The positive involvement of parents throughout a student's journey at Melbourne Grammar is fundamental to the achievement of educational success in its broadest sense, and we look forward to working with all parents in pursuing this aim.
I warmly encourage parents of potential students to visit the School and learn more about our unique learning community and welcoming environment.
Roy Kelley Headmaster
---
Roy Kelley has been the Headmaster of Melbourne Grammar School since 2009. Prior to this he was Headmaster at King's College (Auckland, 2003 – 2009) and Deputy Headmaster at Hale School (Perth, 1991 – 2002). He also taught at Sherborne School in Dorset during the 1980s.
Having migrated to Australia in 1964, Roy's family settled in Perth where he completed his Bachelor of Arts, Diploma of Education and Masters Degree in Education at the University of Western Australia. He is the Chairman of the Dialogue Australasian Network, which fosters an academic approach to the teaching of religious education and values in Australian schools.
Roy is married to Ann and has two daughters, Amy and Sarah. His interests include the theatre, bridge and many sports, including soccer, Australian Rules Football (West Coast Eagles) and cricket.