Education is one of the most fundamental ways we can help young people achieve their dreams. We know that when our community of parents, Old Melburnians and friends rally together, it makes a powerful difference in the lives of all our students.
The Indigenous Bursary Programme has enabled me to achieve many of my goals as well as giving me the confidence to strive for things I would never have thought possible.

Whilst we are grateful for your support of any one of the Foundation's four Pillars of Philanthropy, our current aim is to give hope, encouragement and resources to more Indigenous young men through the Indigenous Bursary Programme.
Collectively, your gifts - regardless of size, or of the Pillar you chose to support - will be an investment, not only in their futures, but in meaningful change that benefits us all. 
Please don't forget to make your gift by 29 June.
2017 Annual Giving – Thank You For Your Outstanding Support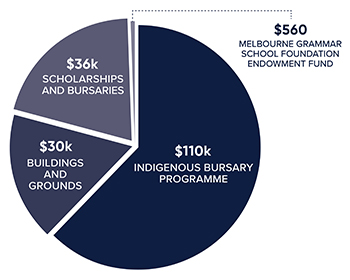 The broader School community of alumni, parents, staff and friends made 2017 Annual Giving a success, by raising $176k across all four Pillars. 
Last year's call to action – to build the number of Indigenous Bursaries – was met with enthusiasm and renewed commitment. In fact, never before have so many donors given to support Indigenous students in a one year period.