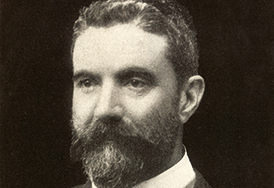 The Hon Alfred Deakin OM 1871
Prime Minister
The Hon Alfred Deakin was influential in Australia's Federation and became the nation's second Prime Minister. Deakin studied law at The University of Melbourne and later was admitted to the Victorian Bar. A keen writer, he then turned to journalism and worked for The Age.
He was first elected to the Victorian Parliament in 1879, where he served for most of the next 20 years. There he introduced the Factories and Shops Act of 1885 to provide safer and healthier conditions for factory workers.
After the drought of the early 1880s his report Irrigation in Western America led to the Irrigation Act of 1886. During this time he returned to the practice of law and in 1892 represented pro bono the infamous mass murderer Frederick Deeming.
Deakin was a leading campaigner for the Federal movement and chaired the Federation League of Victoria. He was present at the passage of the Australian Constitution through the British Parliament in 1900. The following year he was elected to the Federal Parliament and appointed the first Attorney-General of the Commonwealth.
In 1903 he became Prime Minister and Minister for External Affairs. In a period of changing coalition governments, his first term as Prime Minister lasted just two years. He was to serve as Prime Minister twice more before 1910.
As Prime Minister he established Canberra as the site of the Capital, initiated a survey for a trans-continental railway and began the introduction of Australian statistics, meteorology, wireless telegraphy and copyright.
Deakin retired from political life in 1913. Proudly independent, he turned down offers of a knighthood and Privy Councillorship as well as Honorary Doctorates from the University of Oxford and the University of Cambridge.
---
Melbourne Grammar School marked its sesquicentenary in 2008. As part of the celebrations, a Talents Committed Exhibition was staged. This exhibition recognised 150 Old Melburnians who have made a difference to the City of Melbourne, the State of Victoria and the wider community in Australia and overseas.
The above profile was included in the Talents Committed Exhibition in 2008.