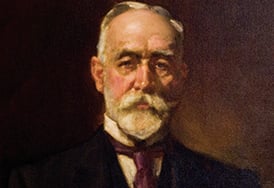 Businessman and University Vice-Chancellor
An influential businessman, Sir John Grice was also Vice-Chancellor of The University of Melbourne. Grice studied law and the arts at Melbourne, where he also founded the University Boat Club and was a member of the Inter-colonial rowing crew.
He was admitted to the Bar in 1873, but instead pursued a career in business with his family's firm Grice, Sumner & Company. He then was Director in the shipping firm Ormerod & Company before returning to the family business following the death of his father.
Grice served on the Board of the National Bank of Australasia for almost 50 years and was its Chairman for over a quarter of a century. He held positions in several other prominent companies, including as Chairman of Directors of the Metropolitan Gas Company and Chairman of the Dunlop Rubber Company. He also served as President of the Melbourne Hospital and Honorary Treasurer and Chairman of the Red Cross Society in Victoria.
In 1917 he received a knighthood for his services to Melbourne. A member of Melbourne's Council for 30 years, Grice's business experience was especially valued as the University fell into financial difficulty. He was appointed Vice-Chancellor in 1918 and led Melbourne for the next five years, during which time he also donated the then considerable sum of 2000 poundsterling.
---
Melbourne Grammar School marked its sesquicentenary in 2008. As part of the celebrations, a Talents Committed Exhibition was staged. This exhibition recognised 150 Old Melburnians who have made a difference to the City of Melbourne, the State of Victoria and the wider community in Australia and overseas.
The above profile was included in the Talents Committed Exhibition in 2008.