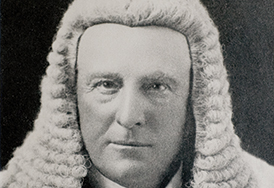 Sir Henry Edward Agincourt Hodges OM 1864
Justice of the Supreme Court of Victoria
Sir Henry Hodges was a Justice of the Supreme Court of Victoria and the first President of The Old Melburnians. After studying law at The University of Melbourne, Hodges was called to the Bar in 1873.
A successful advocate, he was initially appointed to the Supreme Court in 1889 as Acting Justice. His appointment was made permanent the following year. Hodges was respected for his logical judgements and humane sentences but also had a reputation for ill-temper.
His most famous judgement was in the 1892 trial of a serial murderer Frederick Deeming, whom he sentenced to hang at Melbourne Gaol. In 1899 he was appointed Chancellor of the Diocese of Melbourne, the highest church office open to a layman, in which role he served for the next 20 years.
In 1901 he represented the Australian Government at a conference in London on the establishment of an Imperial Court of Federal Appeal. Hodges was also a long-serving member of the Melbourne Grammar School Council and was elected the first President of The Old Melburnians. He was honoured with a knighthood in 1918.
---
Melbourne Grammar School marked its sesquicentenary in 2008. As part of the celebrations, a Talents Committed Exhibition was staged. This exhibition recognised 150 Old Melburnians who have made a difference to the City of Melbourne, the State of Victoria and the wider community in Australia and overseas.
The above profile was included in the Talents Committed Exhibition in 2008.