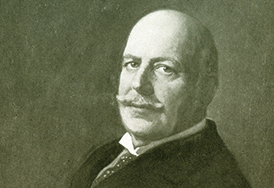 Sir Charles Snodgrass Ryan KBE, CB, CMG OM 1869
Surgeon
A highly decorated military surgeon, Sir Charles Ryan was a prominent figure in Australia's military and medical community. Ryan graduated in medicine from the University of Edinburgh in 1875.
After further postgraduate study he was recruited by the Turkish Government as a military surgeon. He served in the Turko-Servian and Russo-Turkish campaigns before becoming a Russian prisoner of war after a defeat in Turkish Armenia. Ryan was honoured for his conduct during these campaigns with the Turkish War Medal and Orders of the Osmanie and the Medjidie. His war experiences were recounted in Under the Red Crescent (1897).
Many years later he was to serve as Victorian Consul for Turkey. Returning to Melbourne, Ryan became a surgeon at the Melbourne Hospital, a position he held for almost 35 years. He was also Victoria's Principal Medical Officer, Chief Medical Officer to the Victorian Railways and Honorary Physician to the Governor-General.
He was elected President of the Medical Society of Victoria in 1893. During the First World War Ryan was Assistant Director of Medical Services of the Australian Imperial Force's 1st Division. After contracting enteric fever in the Gallipoli landing he returned to England. He was then Consulting Surgeon at Australian Medical Headquarters and an Honorary Surgeon-General to the Australian Military Forces.
Ryan received many honours for his outstanding service, including a Companion of the Order of the Bath, a Companion of the Order of Saint Michael and Saint George and a Knight Commander of the Order of the British Empire.
---
Melbourne Grammar School marked its sesquicentenary in 2008. As part of the celebrations, a Talents Committed Exhibition was staged. This exhibition recognised 150 Old Melburnians who have made a difference to the City of Melbourne, the State of Victoria and the wider community in Australia and overseas.
The above profile was included in the Talents Committed Exhibition in 2008.